Rebuilding Taloa after Cyclone Pam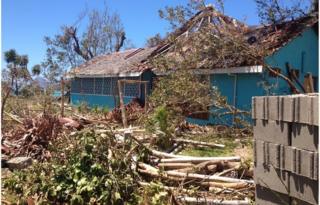 A small boat darts across calm clear waters heading to a distant volcanic island in Vanuatu. As the engine roars, the devastation on Nguna gradually appears.
Most of the trees on its steep ridges have been stripped of vegetation or wrenched out of the earth by Cyclone Pam.
We are travelling from the northern part of the main island, Efate, to visit villages that have yet to receive any support from the world beyond these clear seas.
In Taloa, buildings on the beach have been no match for the maximum category five storm, neither have houses a short walk from the coast.
The home of an elderly woman is in ruins; its steel roof a mangled mess, while a lifetime of belongings and furniture are strewn across the ground.
The owner is living with a neighbour, but this depressing scene is repeated across the island, and beyond.
"This is probably the worst cyclone I have experienced," says Taloa village chief, Donald Manamena, who works for Vanuatu's meteorological service. "We will need fresh water and we will need food."
He estimates that the community has enough water to last about a week, while crops have also been wrecked, robbing the village of its main source of income.
Fruit and vegetable gardens that once flourished in rich soil have been left in ruins, leaving islanders with nothing to sell at markets in the capital, Port Vila.
Tourists come here, too, to marvel at the dramatic volcanic scenery, or to dive and snorkel. But locals fear the reefs have been damaged, and that another part of a wounded economy has been temporarily lost.
It is a hot, humid day, and reconstruction work has already begun, but it is slow going. Materials are scarce.
John, a father of four, takes a break from his hard labour trying to repair the family home with meagre supplies. Sweat pours down his face.
"I need iron roofing and a tarpaulin to cover my house, and cement to rebuild," he said.
"We have no more water now," he added, and told me that his main worry was sickness among the children.
A week ago this would have looked like paradise; lush fields full of food sustaining a thriving seaside community. Now the village is littered with fallen branches, twisted metal and smashed timber.
Sodden schoolbooks are placed on the floor to dry but when classes can resume is unclear. Rosaleen, a French teacher, says that the children were sent home before the storm struck. "When we told them the cyclone was coming they were very afraid," she says
Her relatives live to the south on Tanna island, but their fate remains unknown. "I don't know anything about my family but I have been told the cyclone has spoiled my home island. I am very upset and sorry. I do not know what to do."
It is a frustration that is widely shared.
Communications to many outlying parts of the archipelago have been cut, and the full extent of the destruction could take at least another week to emerge.
On Nguna, they hope that assistance will soon come as the international relief operation fans out across the island chain.
"We believe that the Vanuatu government is going to do something with our needs," says Leiwia Norman, a former librarian. "In the meantime we have to look after ourselves, our families."
An unknown number of communities elsewhere are facing similar privations and uncertainties, but here, there is a dogged determination.
"I think we are coping very well," says chief Manamena. "But we will need outside help. There is nothing on the land right now that people can earn money from."
Life has been stripped back to the basics: the need for food, water and shelter, along with the support of extended family. The villages on Nguna will be rebuilt with communal sweat, but they can't do it alone.
Elders say that normality will eventually return to this once idyllic corner of Vanuatu, and there are some positive signs.
As we leave, a group of young boys take to the surf on boards fashioned by pieces of wood from damaged homes. Their screams of delight eventually fade as their home retreats into the distant behind us.
It is, at least, some light relief for a community that, like others, will have to rebuild from scratch.