Brothers of Thai ex-princess jailed for lese majeste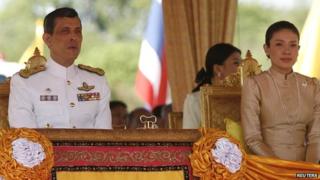 Three brothers of former Thai princess Srirasmi Suwadee are the latest members of her family to be imprisoned for defaming the monarchy.
Natthapol, Narong and Sitthisak Suwadee were jailed for five-and-a-half years. Their parents were sentenced on similar charges last week.
Srirasmi separated from Crown Prince Maha Vajiralongkorn and relinquished her royal title in December 2014.
Thailand's strict lese majeste laws protect senior royals from insult.
At least seven relatives of the former princess have been arrested and accused of corruption and lese majeste since her downfall.
Srirasmi's brothers pleaded guilty to the charges, which also included theft and illegal detention.
Her uncle, a former police general, has been accused of amassing vast wealth through smuggling and gambling rackets.
Srirasmi, the prince's third wife, married him in 2001 and they have one son.
Thailand's 87-year-old King Bhumibol is the world's longest-serving monarch.
Critics of the country's lese majeste law say it restricts free speech and is used to silence political opposition.