China, Japan and South Korea hold renewed talks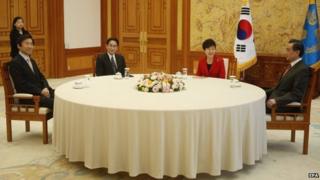 The foreign ministers of China, Japan and South Korea have met for their first talks in three years.
The meeting in Seoul is thought to have focused on ways to ease tensions over territorial and diplomatic disputes.
The ministers agreed to organise a "trilateral summit" for their leaders "at the earliest convenient time".
The three states have strong economic ties but relations still suffer from unresolved issues dating back to Japan's actions in World War Two.
South Korea's Yun Byung-se welcomed Fumio Kishida from Japan and Wang Yi from China to South Korea's capital on Saturday.
Foreign ministers from the three countries last met in April 2012, for their sixth annual trilateral meeting.
It was cancelled the following year after Japanese Prime Minister Shinzo Abe angered China and South Korea by visiting a shrine that honours Japan's war dead, including a number of senior war criminals.
Both countries have accused Tokyo of failing to adequately atone for aggression in World War Two, including its wartime use of sex slaves, known euphemistically as "comfort women".
They also accuse Japan of whitewashing wartime atrocities in schoolbooks.
'Problem with history'
Following the meeting, Mr Yun said the three sides had agreed to "strengthen trilateral co-operation" in "the spirit of looking squarely at history and moving forward to the future".
Reiterating China's position, Mr Wang said: "The war has been over for 70 years, but the problem with history remains a present issue, not an issue of the past."
Analysts say the leaders' meeting is unlikely to come before ceremonies to mark the 70th anniversary of the end of World War Two, as China and South Korea will want to see how Japan marks the occasion.
The BBC's Steve Evans in Seoul says differences do remain but the anger of three years ago has cooled, so the meeting is a tentative step back towards formal dialogue.
The poor relationship between Japan and South Korea has become a concern for the US, which sees the two countries as its main military allies in Asia.
Last week, US Assistant Secretary of State Daniel Russel described the tension between its "two friends" as a "strategic liability".
Saturday's meeting comes just days after China and Japan held their first high-level security talks in four years.
Those discussions are believed to have centred on the creation of a maritime communication hotline between the countries, following tensions over islands in the East China Sea.
There have been several disputes in recent years over the islands, known as Senkaku in Japan and Diaoyu in China, and officials have expressed fears that a clash could trigger a full-blown conflict.
Analysts say the situation has not been helped by Japan re-interpreting its pacifist constitution to allow it to use force for "collective self-defence". China accused Japan of using the change to "remilitarise".