Lee Kuan Yew: Asia media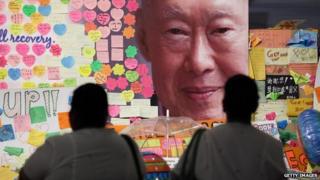 Papers across the region pay tribute to former Singaporean leader Lee Kuan Yew, who has died at the age of 91.
Singapore's Straits Times says Mr Lee was "widely regarded as the man most instrumental in shaping Singapore, from the time he and his People's Action Party colleagues pushed for self-government in the 1950s, to their quest for merger with Malaysia in the early 1960s, and their efforts to secure the country's survival after independence was thrust on it on 9 August 1965".
Today newspaper called him "a man unafraid to challenge the popular ideologies of the day; he had no truck with dogma. Right up to the end of his life, Mr Lee Kuan Yew believed in constantly adapting to the hard realities of a changing world, and to refresh his 'mental map', he ceaselessly sought out the views of experts, academics, industry, political leaders, journalists and the man in the street".
Singapore's Chinese-language daily Lianhe Zaobao says Mr Lee "left a precious political legacy". "New generations will continue from the foundation that he built and create brilliant success.
Recalling that policies and heavy-handed measures to fight corruption were sometimes ridiculed by foreign media, the daily quotes Mr Lee as saying "Singapore will have the last laugh".
'Diplomatic pragmatism'
In China, a Xinhua news agency article highlights Mr Lee's "courage" in "fighting the foreign media". "Mr Lee's political values were never shaken despite facing defamation and criticism of foreign media," it notes.
Several online news portals reflect on the close relationship between Mr Lee and previous Chinese leaders. The China Daily highlights Mr Lee's "diplomatic pragmatism", crediting him with "inspiring Beijing's reforms, opening up".
Jin Canrong, a professor of international relations at Renmin University of China in Beijing, tells the daily that Mr Lee's top contribution to China was his effort to "share Singapore's successful experience in governance".
"Generally, China pays respect to him…The two sides may differ on some issues, because Singapore is another country, after all... It was perfectly natural for Lee to act out of national interest and deliver some differing opinions," adds the pundit.
In Taiwan, Radio Taiwan International talks of Mr Lee's "40 years of friendship". The article notes he was a "key person" in promoting cross-strait relations.
In Hong Kong, the South China Morning Post reflects that Mr Lee was a controversial figure who was "obsessed with independent Singapore's questionable economic viability and its vulnerability" and ruled "with an iron will" that built Singapore's reputation as a tightly regulated "nanny state".
'Stormy union'
In Malaysia, from which Singapore was ejected in 1965, several websites give front-page space to his death. The Malaymail Online highlights Malaysian PM Najib Razak's tribute to Mr Lee.
The paper recalls that "relations between the two nations had been testy for much of their history, ever since Mr Lee led Singapore to independence in 1965 after a brief and stormy union with Malaysia".
"Despite that, steady relations have remained important to each side, especially their deep trade ties, and have improved in recent years under Lee's son, current Singapore leader Lee Hsien Loong, and Mr Razak," it says.
Pan-Asian websites also remember the Singaporean leader. Carlton Tan writes in the Asian Correspondent that Singapore will not be the same.
"Those who love him will mourn his passing and celebrate his life. Those who hate him will celebrate his death and curse the day he was born… But somewhere deep inside, all of us will know that things will never be the same again in Singapore after Lee Kuan Yew," he writes.
BBC Monitoring reports and analyses news from TV, radio, web and print media around the world. You can follow BBC Monitoring on Twitter and Facebook.