Afghanistan suicide bomb blast kills 16 in Khost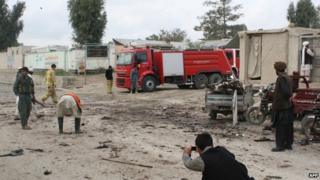 At least 16 people have been killed in a suicide bombing in the eastern Afghan city of Khost, officials say.
Another 40 were injured in the attack on a crowd of people protesting outside the office of the provincial governor.
Protesters have been demanding that acting Governor Jabar Naemi resign over corruption allegations.
There was no claim of responsibility for the attack, which left an MP injured. The Taliban who are active in the province said they did not do it.
Khost borders Pakistan and is one of Afghanistan's most volatile provinces.
Thousands of people fleeing a Pakistan army offensive against the Taliban have arrived in the province in recent months.