South China Sea island-building 'may undermine peace' - Asean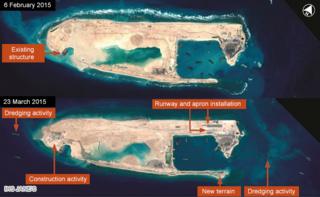 Southeast Asian leaders have said land reclamation projects in the South China Sea risk undermining regional peace.
The leaders' statement comes at the end of a regional summit but a draft was widely reported on Monday.
Though it does not mention China, it comes after satellite images showed extensive Chinese building in disputed parts of the sea.
China claims almost the whole of the South China Sea, resulting in overlapping claims with its neighbours.
Those countries whose claims overlap China accuse it of illegally taking land to create artificial islands with facilities that could potentially be for military use.
China - which is not in Asean but is a major trading partner of many members - says its work is legal and needed to safeguard its sovereignty.
The topic has overshadowed discussions at a summit of the 10-member Association of Southeast Asian Nations (Asean) in Langkawi, Malaysia.
On Sunday, the Philippines, which claims some of the disputed territory, called on Asean to "finally stand up" to China and demand it end its reclamation works.
The statement issued on Tuesday is among its strongest words yet on the issue, but still emphasises the role of negotiation.
It says the land reclamation has "eroded trust and confidence and may undermine peace, security and stability in the South China Sea".
The leaders call on their foreign ministers to address the matter "constructively", following Asean frameworks and the "principle of peaceful co-existence".
Malaysia Prime Minister Najib Razak had on Monday defended Asean's caution approach, saying Asean would "continue to engage China in a constructive way".
"We hope to be able to influence China that it is also in their interests not to be seen as confronting Asean; and any attempt to destabilise this region will not benefit China either."
China said on Monday its construction work was "fair, reasonable and legal, and it does not affect any other country".
"The accusations made by some countries on China are not justifiable at all," said Foreign Ministry Spokesman Hong Lei.