Afghanistan landslide buries remote village, killing 52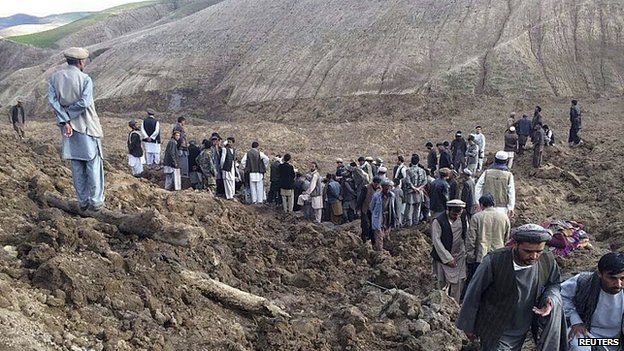 At least 52 people have been killed in north-eastern Afghanistan after a huge landslide swept through a village.
Nearly 100 homes were destroyed in Khawahan district, Badakhshan province, near Afghanistan's border with Tajikistan.
A provincial official told the BBC that most of those killed were women and children.
He said the affected area was not accessible by road due to heavy snow, seriously hampering rescue efforts.
The region regularly suffers landslides when snow begins to melt in the spring.
Deforestation in the impoverished region has also been blamed for the growing frequency of landslides.
In Thursday night's landslide, 25 women, 22 children and five men died when 97 houses were buried, said deputy provincial governor Gul Mohammad Beidar.
He said the central government was sending helicopters to allow emergency teams to get to the isolated area.
Afghan President Ashraf Ghani was "deeply saddened" to hear about the landslide, his office said in a statement quoted by AFP news agency.