Filipinos urged to save power for Pacquiao boxing match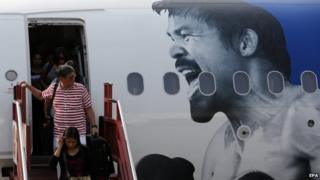 Residents of a Philippine island have been urged to switch off electrical appliances on Sunday to ensure they will have enough power to watch boxer Manny Pacquiao's fight.
The island of Palawan has recently been suffering from daily power shortages.
Pacquiao is to take on Floyd Mayweather in Las Vegas in one of the most hotly anticipated fights for years.
Pacquiao is regarded as a national hero in Philippines and huge numbers are expected to watch the match.
Rante Ramos, secretary of the electrical co-operative on the island of Palawan, warned in a Facebook update that some power circuits on the island "may inevitably be switched off".
"On 3 May, let's all voluntarily switch off or disconnect as many appliances as we could. Everybody could have the chance to watch live the fight of the century," he went on.
Mayweather and Pacquiao are widely regarded as the two best boxers in the world and the fight has generated considerable excitement.
Pacquiao has been elected to the Philippine Congress and is one of the most famous and popular figures in the country, inspiring almost religious devotion among some of his fans.