Afghan citizens back fight against Taliban-IS alliance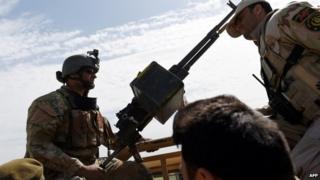 A major Afghan government operation against Taliban militants in the north-east of the country is being supported by uprisings of local residents.
The Afghan government forces have pushed back the Taliban from positions on the outskirts of the provincial capital of Kunduz.
In four districts of the province the newly formed bands of armed men - citizen militias - are being given ammunition, fuel and food by the police to defend their villages.
In a district close to Kunduz town, 120 men patrol their farmland after fierce fighting with the Taliban. They said that the fields were full of undiscovered improvised explosive devices. And buildings are peppered with bullet holes after the fighting in which the Taliban were pushed back.
'No questions asked'
Most of the militia walk barefoot. They are farmers, but their commander, Lal Mohammed, 22, is a student.
He told the BBC that he had no other choice than to pick up a gun. "I should go for education, but instead I am carrying a weapon. The conditions are as they are and I have no other option."
The front line is fluid and unpredictable, and the fighting has been intense because the Taliban are backed by foreign fighters from the self-proclaimed Islamic State.
A farmer called Zahir had run from a more dangerous part of the province to the area now held by the citizen militia. He said that the Taliban who had seized his house "hid their faces in scarves. They didn't ask any questions".
Shopkeepers opened up for the first time in almost two weeks under the watchful eye of their armed neighbours who are protecting them.
"It was difficult when the Taliban were here. We could not even leave our homes," the owner of a tyre repair shop, Mohammed Shafiq, said.
The government may be proud of arming this group of men defending their land. But Afghanistan has a history of local militias who are hard to control. The need to call on this citizen army asks searching questions about the capacity of national forces.
Meanwhile there is an uneasy calm in the centre of Kunduz - saved for now from threats from the Taliban. But shops are doing little business as the fighting goes on in the countryside not far away.