Pakistan detains Axact chief Shoaib Sheikh over 'fake degrees'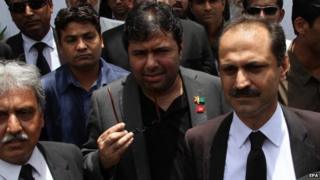 Pakistani investigators have detained the head of a global internet technology firm suspected of an alleged multi-million dollar fraud selling fake university degrees online.
Axact's CEO Shoaib Sheikh and his deputy, Waqas Atiq, were taken into custody after a raid at their Karachi offices on Tuesday night.
Officials said hundreds of thousands of blank degree forms, student cards and authentication documents were found.
Axact has called the claims "baseless".
The Federal Investigation Agency (FIA) chief for Sindh province, Shahid Hayat, told media the agency had enough evidence to proceed against Mr Sheikh on charges of fraud, forgery, money laundering and violation of electronic transactions law.
Mr Sheikh was taken into custody 10 days after the International New York Times published allegations that the software firm based in Karachi was running a worldwide degree scam.
---
Axact's mission statement is "Winning and caring"
It was started by Shoaib Sheikh in a small office during the dotcom boom in 1997
It now has a "presence" in 120 countries with more than 25,000 employees and associates, according to its website
Media group Bol was intended to "popularise" an "independent Pakistan"
---
Raids took place at Axact offices in Karachi and Islamabad. Equipment was confiscated, records impounded and dozens of Axact employees were briefly detained for questioning.
The wider interest generated by the newspaper report in Pakistan is attributed to the fact the company was going to launch a well-promoted, high-profile print and electronic media group called Bol (Speak up), offering three to four times the market salaries to journalists it had hired.
A number of senior journalists who had been with Bol for several years, preparing for the launch, have now resigned from their positions.
Axact has strenuously denied the allegations against it.
On its website, it said last week: "Axact provides a comprehensive education management system that benefits diverse bodies of students and caters to all types of educational institutions - online and traditional.
"All 10 business units of Axact are completely legitimate, legal and committed to enhancing the quality of IT services across the world."
It has accused rival media groups to Bol of "campaigning" against it.
---
Analysis: M Ilyas Khan, BBC News, Islamabad
Since the New York Times report, the media in Pakistan have had a field day lashing out at Axact, betraying a desire, some suspect, to make sure the company's promised new media giant, Bol, doesn't rear its head.
Axact is registered with the Securities and Exchange Commission of Pakistan as an IT development and export firm that also runs call centres, but it has now been accused of running a fake degrees empire, a charge it denies.
Many believe Bol to be the main reason why the scandal got such traction in Pakistan. Vigorously promoted as a high profile print and electronic media group, Bol had been hiring journalists and other staff for the past few years on three to four times the market salaries, putting rival media houses on the defensive.
But most journalists in lead roles have now resigned - many citing "principles" but, critics allege, also fearing financial disruptions. They have attracted criticism on social media for jumping ship and abandoning some 2,000 employees in subordinate positions "poached" from other media houses with offers of huge salaries.
---
Mr Sheikh and Mr Atiq are expected to be produced in court on either Wednesday or Thursday, depending on how soon formal charges are drawn up.