Pakistan's 'paranoia' over Save the Children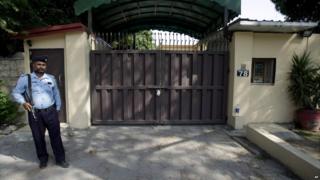 Save the Children is now operating again in Islamabad but the episode involving the closing of its offices highlights Pakistan's growing sense of insecurity as it struggles with a brittle, cash-strapped political system, armed insurgencies and persistent international isolation.
The finance ministry issued an order directing the charity to "wind up its offices/operations in Pakistan forthwith" on 11 June, warning its expatriates "to leave Pakistan within 15 days".
Soon afterwards, a top district officer sealed the group's Islamabad offices. In a statement that night, Save the Children said they had not been notified about the move in advance.
The government gave no reasons but a police official confronted by reporters surmised that the organisation might have been involved in "anti-state activities".
The following day, however, another order from the finance ministry said action on the previous order "may be held in abeyance" - but Interior Minister Chaudhry Nisar said it didn't mean the earlier order had been withdrawn.
Nearly two weeks later, on 24 June, a spokesman for Save the Children broke the news that the charity's offices in Islamabad had reopened and that "other offices across the country will reopen in due course".
A statement described the move as public recognition by the government that it "has never been involved in any anti-state activities".
Spokesman Saeed Ahmad told the BBC that there were no concerns Save the Children was engaging in anti-Pakistan activities. Instead, there were a number of "misunderstandings", one of which was that foreign staff were working in Pakistan, which was not the case.
Spy suspicions
In an earlier statement, the charity had said it had 1,200 staff all over the country but none of them was an expatriate.
This would suggest Pakistani fears stemmed from the suspicion that some international non-governmental organisations (INGOs) might be working as a cover for foreign spies.
Save the Children's closure order came just over a week after a foreign office spokesman denied there were any plans to close any INGOs.
The denial was issued following reports that a ministerial committee was revamping funding procedures for a number of major INGOs that officials thought were violating their mandate.
The fact that the axe fell on Save the Children is not entirely unexpected.
The charity has been a target of the Pakistani establishment since 2011 when it was reportedly used as a cover by Dr Shakil Afridi to carry out what Pakistani intelligence officials believe to be a CIA-funded vaccination drive to track down Osama Bin Laden.
There are reports that several other INGOs may be on the government's hit-list, most of them funded by the US or UK.
Since the late 1970s, when Pakistani society set off on the course to radicalisation, INGOs have come to be regarded as suspicious.
The security establishment fears spies in these organisations may compromise their security, while religious and conservative groups fear they promote Western culture and ideology.
This paranoia seems to have been deepening since the Bin Laden affair in 2011, and came to a head recently when the Pakistani military decided to perform surgical action to reshape a policy that spawned militant groups which it fears may now be willing to be used against it.
Since last year, the Pakistan army has clearly risen to dominate the country's political and diplomatic landscape, relegating the civilian leadership to the background.
This rise appears to be fuelled by an accompanying fear - real or imagined - that India, and possibly some others, may be getting in a position to deal Pakistan a serious blow.