Taliban ambush in Herat province 'kills 11 soldiers'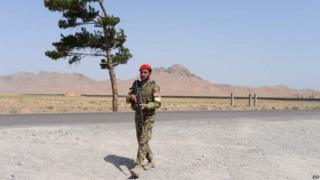 Taliban militants in Afghanistan have killed at least 11 Afghan soldiers in an ambush in western Herat province, police have told the BBC.
The convoy of pick-up trucks was attacked on Sunday evening in Karukh district of Herat, officials say.
Weapons were stolen by the Taliban from the scene of the attack, the Tolo news agency reported. It said that at least six soldiers had been injured.
The ambush follows fighting last week in the northern province of Kunduz.
The Taliban have increased attacks on the security forces since launching their annual spring offensive in late April, correspondents say.
It is feared that the violence this year could be worse than previous years, especially because the security forces are stretched on several fronts and facing record casualties.
Nato's combat mission in Afghanistan formally ended in December after 13 years, although a small contingent of foreign forces has remained in the country to provide training and support to local security forces.
The Herat provincial governor's spokesman told the BBC that an officer was among the 11 soldiers killed in the latest fighting.
In a separate incident, protests took place on Monday over moves by foreign troops in Charikar, the capital of Parwan province, to destroy an ammunition cache.
The demonstrators were unhappy that a house had been raided and the cache - which dates back to the struggle against the Soviet occupation in the 1980s - destroyed late at night while they were sleeping.
They set tyres in the main market alight and chanted anti-US slogans, according to local TV reports.
Interior ministry spokesman Sediq Sediqqi told the AFP news agency that police were investigating the raid.