Afghan conflict: Kabul civilians hurt in attack on Nato convoy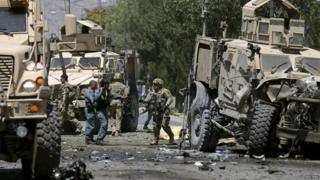 A Taliban suicide bomber driving a car has targeted a Nato troop convoy in the Afghan capital, Kabul, reportedly killing one civilian and injuring 22.
The blast took place on the main road to the airport, close to the US embassy and the diplomatic quarter.
Two Nato troops suffered light injuries, an alliance statement said.
Afghan security forces have taken on much of the task of battling Taliban militants since Nato ended major combat operations last December.
A smaller contingent of foreign troops remains in the country to provide training and support to local security forces.
More than 4,000 civilians have been killed in the fighting this year, prompting fears that the toll for 2015 could exceed that recorded last year.
A massive plume of smoke was seen rising above the scene of the blast. A man named Ahmad Farhad told the Associated Press news agency that he seen a car attack the Nato convoy.
"I saw two to three damaged vehicles and wounded victims were everywhere and there was no one to help them," he said.
One person was killed in the blast, the Afghan interior ministry said. The injured reportedly include women and children.
Casualty figures have fluctuated throughout the day, with earlier reports saying more people had died.
The latest attack will raise fresh questions over a peace process between the government and the Taliban that has just begun to take shape, says the BBC's David Loyn in Kabul.
Last week, Taliban militants launched a high-profile assault on the parliament building, as legislators were preparing to select a new defence minister.
Earlier on Tuesday, militants carried out a suicide on a police building in Helmand province, reportedly killing two people and wounding more than 50.
---
Are you in Kabul? Have you been affected by what has happened? If it is safe to do so, you can share your experience by emailing haveyoursay@bbc.co.uk.
If you would be happy to speak further to a BBC journalist, please include a contact telephone number when emailing us your details.
Or WhatsApp us on +44 7525 900971
Send your pictures and videos to yourpics@bbc.co.uk, text them to +44 7624 800 100 (international) or via our WhatsApp number +44 (0)7525 900971 .
You can also upload here.