Taiwan election: KMT nomination sets up battle of women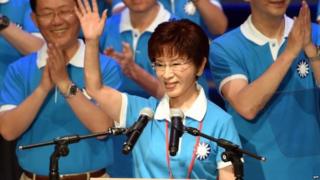 Taiwan's governing Kuomintang (KMT) has chosen a woman to be its candidate in January's presidential poll, setting up the first-ever all-female contest between the country's two main parties.
The KMT endorsed Hung Hsiu-chu, currently the deputy speaker of parliament, at a party congress.
She is expected to face a tough challenge from Tsai Ing-wen of the Democratic Progressive Party (DPP).
Relations with mainland China are likely to be a major campaign issue.
Ms Hung favours closer relations while Ms Tsai and her party fear this could threaten the island's sovereignty.
Blow for equality
This is the first time in the KMT - which was founded more than a century ago - has chosen a woman to be its presidential candidate.
Supporters cheered as Ms Hung, 67, was confirmed on Sunday.
But the BBC's Cindy Sui in Taipei says few party leaders sought the candidacy after the KMT suffered a crushing defeat in local elections last year.
Outgoing President President Ma Ying-jeou resigned as party chairman after the poll, which was widely seen as a rejection of his push for close ties with Beijing.
Ms Tsai Ing-wen lost in the presidential race in 2012 but she is leading in opinion polls this time.
Taiwan has never had a female president.
Many people see the fact that two women are running as a sign of progress and a reflection of the island's recognition of gender equality, our correspondent adds.