Tour operators criticise all-clear given to Nepal trek area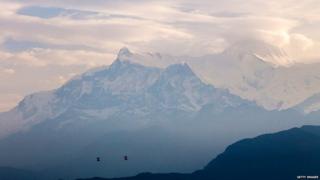 Nepal's most popular trekking region has been declared safe by a government-commissioned report following earthquakes in April and May that killed more than 9,000 people.
However the study on quake damage to the Annapurna area has been criticised by some tour operators.
They say that the report is flawed because it was rushed and made on the basis of only a week's fieldwork.
The quakes have had a devastating effect on Nepal's tourism industry.
There were about 17,000 fewer tourists between May and July this year than in the same period in 2014.
A severe storm last October - peak trekking season - killed visitors hiking the Annapurna Circuit and has added to the tourism sector's woes.
The British-funded aid study - carried out by structural engineering company Miyamoto - revealed that the Annapurna region was not as badly damaged by the earthquakes as initially feared, with only a tiny number of trails in the area requiring repair.
The report's conclusions have been welcomed by the Nepalese government.
A second World Bank-funded Miyamoto report on quake-damage in the Everest region is due to be published imminently. Officials say that it too will conclude that that area is safe once again for people to visit.
But trekking and mountaineering operators are not happy with the way that the studies have been conducted.
They say they were not consulted during the field studies despite their geographical and practical knowledge of the two regions.
Nepal Trekking Agents Association President Ramesh Dhamala said that the operators would not send clients to either region on the basis of the two reports.
"Such assessments need to have the involvement of stakeholders like us to have any credibility," Mr Dhamala said.
He said the industry could not take risks in the absence of reliable geological reports.
The 7.8 magnitude earthquake on 25 April - and the aftershocks that followed it - caused thousands of landslides and left other hilly and mountainous areas unsafe.
The quake caused an avalanche at the Everest base camp where at least 17 people died.
A major aftershock on 12 May caused a massive landslide in the Annapurna region, dangerously blocking a river along the trekking trail.
Nepal Mountaineering Association President Ang Tshering Sherpa said that because the reports commissioned by the government were based on about one week of fieldwork, they were "totally insufficient".
"We were assured that our experts would be taken into the field, but those who carried out the studies failed to do so," he said.
But Miyamoto officials insisted that representatives from trekking and mountaineering companies were consulted.