US criticised for taking Malaysia off trafficking blacklist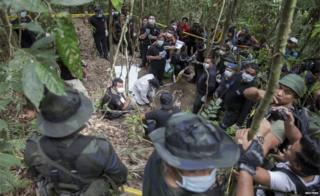 Rights groups have reacted angrily after the US took Malaysia off its human trafficking blacklist.
They said the decision was made so the US could quickly push through the Trans-Pacific Partnership, a 12-nation free-trade agreement which has an anti-trafficking clause.
The US denied this, saying Malaysia was "making significant efforts" to eliminate trafficking.
Meanwhile, Thailand has argued against its bottom-tier grade in the report.
What is the TPP and why does it matter?
The Trans-Pacific Partnership (TPP) deal - which Malaysia is part of - needs final approval from US Congress.
President Barack Obama has been given the power to fast-track that approval, but not for countries given the worst rating in its annual Trafficking in Persons report.
Malaysia and Thailand were previously given the low rating - Tier 3 - but in this year's report, Malaysia was moved into the less severe Tier 2, meaning it just has "room for improvement" on the issue.
Both countries have been criticised for not doing enough to combat trafficking particularly since the Rohingya migrants crisis saw thousands flee from Myanmar.
In May, mass graves suspected to contain the remains of migrants and abandoned human trafficking camps were found along the Malaysia-Thailand border.
'No concrete action'
The State Department said in its report that while Malaysia "does not fully comply" with minimum standards to eliminate trafficking, "it is making significant efforts to do so", citing moves to strengthen anti-trafficking laws and increased investigations.
Malaysia's Home Minister Ahmad Zahid Hamidi said the upgrade affirmed the country's efforts, reported The New Straits Times.
But Phil Robertson of Human Rights Watch said convictions for trafficking were lower than last year and, pointing to the mass graves, said trafficking and abuse of migrants were still done "with impunity".
"How can the State Department call this 'progress'?... This upgrade is more about the TPP and US trade politics than anything Malaysia did to combat human trafficking over the past year," he said.
Malaysia-based anti-trafficking group Tenaganita said the upgrade was "shameful", noting that "very few" recommendations made to Malaysia by the US last year to combat trafficking were taken up.
It said trafficking victims still lacked legal protection and that the Malaysian government had taken "no concrete action" to stop trafficking at its border with Thailand.
The US-based Alliance to End Slavery and Trafficking said the upgrade "lacked credibility" and accused the US of "allowing political interests to influence how governments are held accountable".
On Monday the US Undersecretary of State Sarah Sewell told reporters that the discovery of mass graves happened after this year's reporting period and denied that Malaysia's upgrade had to do with the trade agreement.
Meanwhile, a group of 25 rights groups sent a joint letter to Secretary of State John Kerry supporting the State Department's move to retain Thailand in Tier 3, and urged the US to continue pressuring for "substantive changes", in particular to the fishing industry where slavery is said to be rampant.
Thailand's military government said the report did not "accurately reflect the significant efforts undertaken by the government to tackle the problem".
Prime Minister Prayuth Chan-ocha said Thailand was "working at full capacity" to tackle trafficking and that he hoped the US would recognise that in its next review.