Afghanistan: Taliban attack in Kunduz kills 29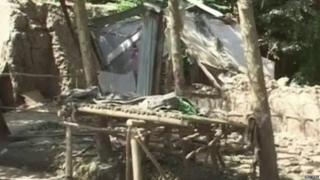 At least 29 members of a pro-government militia have been killed in an attack in northern Afghanistan, officials say.
Four commanders are said to be among those killed on Saturday when a Taliban suicide bomber targeted a gathering in the province of Kunduz.
The interior ministry described them as civilians but local officials and the Taliban said they were militiamen.
There has been a sharp increase in Taliban attacks in Afghanistan - more than 50 people died on Friday alone.
The UN said the attacks were likely to be the product of a Taliban power struggle following the death of its leader Mullah Omar about two weeks ago.
Such infighting threatens to kill off a tentative peace process that was suspended last week.
The Afghan interior ministry condemned Saturday's attack in Khanabad district as a "heinous act".
It said those killed - and some 15 wounded - were civilians.
However, local officials including Abdul Wadood Wahidi, a spokesman for the governor of Kunduz, said the dead were pro-government militiamen.
In June, the Afghan government launched a counter-offensive against the Taliban, after they took control of a key district.
Chardara district is just a few kilometres from the provincial centre of Kunduz, and a major road to the capital Kabul runs through it.
Militant violence has increased across the country since the departure of most US and Nato forces last year.