Nepal gay parade to enshrine LGBT rights in constitution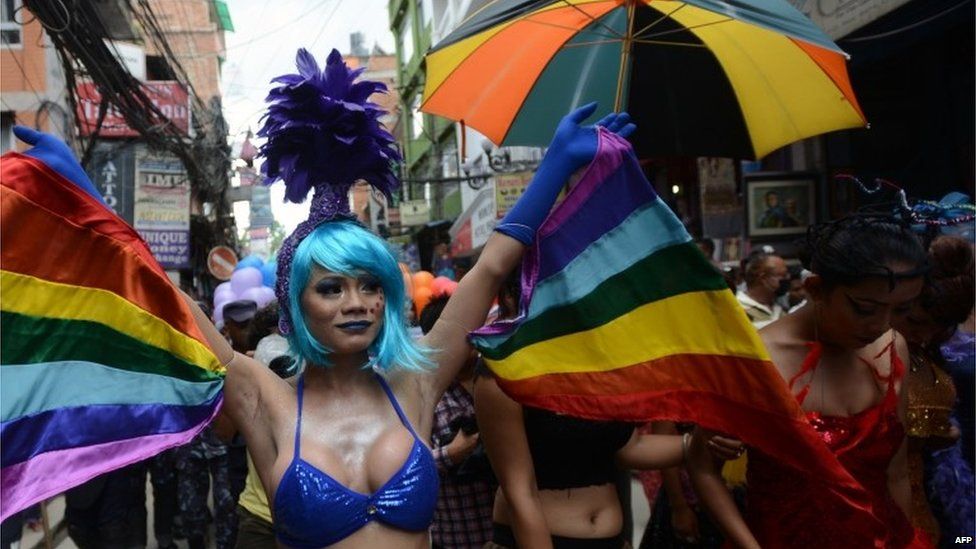 Gay right activists have taken part in a parade in Nepal's capital Kathmandu to press their demands for gay rights to be enshrined in the constitution.
Hundreds turned up for the colourful rally - dancing in the streets.
They are demanding same-sex marriage be guaranteed in the new constitution, gay couples' rights to adopt, buy joint property or inherit from one another.
Nepal decriminalised homosexuality in 2007. It remains illegal in many South Asian countries.
"Our main demand is that the rights of the sexual minorities should be guaranteed in the new constitution," said Pinky Gurung of the Blue Diamond Society, a gay rights group in Nepal.
Nepal recognised a third gender as early as in 2007 when the Supreme Court ordered the government to scrap all laws that discriminated on the basis of sexual orientation or gender identity.
This year, it issued passports with "other" as the choice for those who do not wish to be identified as male or female.
But representatives of the LGBT [lesbians, gays, bisexuals and transgender] community say they have difficulty obtaining these passports.
Nepal has seen several protests in recent weeks against the new draft constitution being discussed by parliament.
Minority ethnic groups have argued that the new constitution, which would divide the country into seven federal states, enshrines discrimination against them and gives them insufficient autonomy.