Anglers killed as South Korea fishing boat capsizes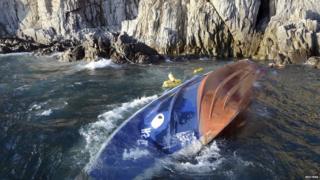 Rescuers are searching for survivors from a fishing boat that capsized off South Korea's southern coast, leaving at least 10 dead.
The boat was taking anglers on a fishing expedition. There were 22 people on the passenger list, but some are thought not to have boarded.
At least three people survived after clinging to the upturned hull of the boat for some 10 hours.
The coastguard said 44 boats were deployed in the rescue operation.
The 9.8 tonne boat, the Dolphine, capsized late on Saturday near the island of Jeju, about half an hour after leaving port.
One survivor told South Korea's Yonhap news agency that the boat capsized "in an instant" due to powerful waves.
"I was sleeping when the boat's engine went off and the captain told us to get out and water started to fill the boat," the survivor was quoted as saying from hospital. "I was the last to come outside and as soon as I did, the boat capsized."
Some of those on board, including the captain, did not have life jackets. "One by one, those who lost strength slipped away," the survivor said.
The accident is the most recent in a series of fatal fishing boat sinkings in the region. More than 50 fishermen died in December last year.
Part of the problem with the latest tragedy is that the list of those on board was inaccurate, the BBC's Stephen Evans reports from Seoul.
There may now be questions about maritime safety in a country still questioning standards after the sinking of the Sewol ferry last year with the loss of more than 300 lives, our correspondent adds.