South East Asia's haze - social media reacts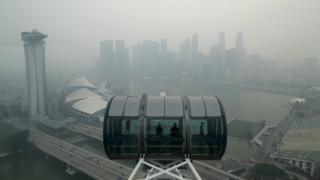 The Haze - annual air pollution caused by forest burning in Indonesia - is back across parts of South East Asia, and social media has once again been flooded with complaints about the filthy skies.
From memes to citizen campaigns, Facebook and Twitter users in Singapore, Malaysia and Indonesia have not held back when discussing rising pollution levels.
"Guess who's back, back again - the haze is back, tell your friends," commented a Twitter user in the Malaysian capital city, Kuala Lumpur, putting a smoggy spin on an Eminem song.
Another musically inspired tweeter made reference to Jimi Hendrix's famous rock anthem 'Purple Haze'.
Other users, however, made light of the situation by sharing jokes and memes.
"The haze will turn your sashimi into smoked salmon," tweeted Singaporean radio personality Joakhim Gomez.
One rather cute meme being shared widely on Facebook, the most popular social media site in Indonesia and Singapore, showed a "fiery birthday celebration" between the countries' flags, with Indonesia ignoring pleas to blow out the increasingly violent looking flames of its birthday candles.
The meme also proved highly popular on Twitter - although it is not clear who created it.
'Burning haze'
For many years, the annual smog been at the centre of heated diplomatic debate between Indonesia and Singapore.
Singapore has confronted Indonesia about the burning of land for palm oil plantations in Sumatra.
Indonesia, however, has argued that it is unfair to blame it alone for the forest fires. It named Singaporean firms earlier this year it said had roles in contributing to the pollution.
Some citizens of both countries have launched online campaigns to combat the haze.
Indonesian cartoonist Dhany Pramata, 23, shared a drawing on Twitter using the hashtag #masihmelawanasap ['Still fighting the haze'] to emphasise that there was still "no concrete solution" to the problem.
The hashtag was also used more than 1,300 times on popular photo-sharing app Instagram.
"It has been two months. I can smell the burning haze, I've suffered from dizziness, eye irritation, out of breath even inside the house," Mr Pramata told the BBC's Indonesian Service.
'We breathe what we buy'
A Facebook page from Singapore also called on people there to acknowledge responsibility for the air pollution.
"It's the usual blame game between farmers and officials, politicians and other politicians. So we decided to help instead of just complaining about why it started," said 30-year-old financial consultant Tan Yi Han from Singapore.
Together with a group of friends, Mr Tan started an online campaign in 2014, accompanied by a dedicated Facebook page called, "The People's Movement to Stop Haze".
"We realised that we as Singaporeans, must do something about palm oil and paper as we use both on a daily basis. So we breathe what we buy," Mr Tan told the BBC.
The Facebook page aims to share haze-related articles and also gathers pledges of support for sustainable palm oil.
"During the haze period, there is always a lot of chatter on social media. We wanted to actively respond to all these emotions, frustrations and uncertainties so we use Facebook to share what we know and re-direct them to our campaign."
Reporting by Heather Chen in Singapore and Christine Franciska in Jakarta.