South Korea jails man for stabbing US ambassador Mark Lippert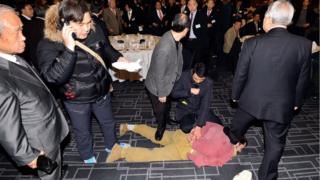 A South Korean man who stabbed the US ambassador has been jailed for 12 years for attempted murder.
Kim Ki-jong, 56, attacked Mark Lippert at a breakfast function in a Seoul hotel on 5 March - the ambassador needed 80 stitches in his face and hand and was left scarred.
Kim, a known Korean nationalist, had made multiple visits to North Korea.
He said he was protesting against joint South Korean-US military drills but did not intend to kill Mr Lippert.
The prosecution, however, argued the force of the attack was so great that it might well have been fatal. They had sought a 15-year prison term.
Mr Kim was also convicted of assaulting a foreign envoy, but cleared of a charge under the National Security Law of assisting North Korea.
The Seoul Central District Court said he had "shown no repentance, attempting to justify his actions throughout the trial," the AFP news agency reported.
Mr Lippert spent five days in hospital but has since returned to work and said the US mission in Seoul would remain "open and friendly".
The US has some 28,000 military personnel based in South Korea, and the two militaries regularly carry out military exercises together.
The drills are an ongoing source of tensions with the North, which views them as preparation for war. They are also unpopular with many in the South, with demonstrations regularly staged against them.
---
Kim Ki-jong's militant past
In 1985, was part of a group that cut and burned a US flag on the embassy grounds in Seoul, according to South Korea's Yonhap news agency
Visited North Korea at least six times in 2006-07, reportedly planting trees near the border city of Kaesong
In 2007, set himself on fire in front of the presidential office in Seoul, asking for an inquiry into a rape that had allegedly taken place at his office in 1988 (Yonhap)
When in 2010 he hurled concrete at the then Japanese envoy, Toshinori Shigeie, it was the first assault on a foreign ambassador in South Korea; he received a suspended jail term
In 2011, he tried to erect a memorial altar for the late North Korean leader, Kim Jong-il, in the heart of Seoul (Yonhap)
Has also staged one-man protests against Japan over an island dispute (Reuters)