Abdul Basit: Pakistan delays hanging of paraplegic man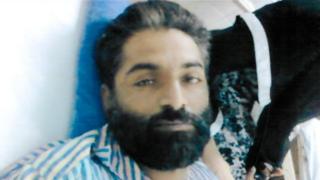 The planned hanging of a paraplegic prisoner convicted of murder in Pakistan has been delayed, his lawyer has said.
Abdul Basit could not be hanged in compliance with the jail manual because he is in a wheelchair, a magistrate said when ordering the postponement.
Pakistan's prison guidelines require that a prisoner stand on the gallows.
Rights groups say hanging Basit would constitute cruel and degrading treatment.
Abdul Basit, 43, is paralysed from the waist down and uses a wheelchair after becoming ill in prison.
Pakistan reintroduced the death penalty in December 2014 and has hanged 239 people since.
At the time, the government said it was a measure to combat terrorism after the Taliban massacred more than 150 people, most of them children, in a Peshawar school.
---
Abdul Basit
Was convicted in 2009 for killing the uncle of a woman with whom he was accused of having a relationship
He denies murdering the man
In 2010, he contracted tubercular meningitis, was in a coma for several weeks and ended up being paralysed from the waist down
His lawyers argue that his incontinence will add to his loss of dignity during his execution
---
Basit was convicted six years ago of murder and was to have been hanged in Lahore last month - but that was postponed.
A court then ordered the jail authorities to go ahead with the hanging, even though his mercy petition filed on 22 July before the president is still pending. Both the Supreme Court and the Lahore High Court have given their consent to the execution.
It is unclear if any time limit was imposed on the most recent postponement.
"Why do they want his execution? He is already severely sick, what will they get from his hanging?" Basit's mother, Nusrat Perveen, told AFP.
Campaigners say there is a danger that the hanging could go wrong and end up being a breach of the prisoner's dignity - which is protected by Pakistani laws.
"The rules presume that the convict [can] walk up to the gallows, which is not possible in Abdul Basit's case," Wassam Waheed, a spokesman for Justice Project Pakistan (JPP) told the BBC.
---
Analysis: Ilyas Khan, BBC News, Islamabad
The hanging of Abdul Basit has been put off not because of any questions over his trial or any media campaign, but due to a purely bureaucratic constraint: there was no way he could stand on his legs on the gallows and thereby allow the hangman to tie a noose of the right length.
This length is calculated in relation to the height and weight of the convict and is meant to ensure instant, more humane death.
Since the so-called "long-drop" method of hanging is the only form of execution allowed under the jail manual, there were fears that if applied to Abdul Basit, it could go seriously wrong. But the postponement came in the wee hours of Tuesday, barely an hour before the hanging, possibly to avoid any immediate controversy.
The postponement has created an interesting situation. Basit cannot be hanged unless the authorities are willing to be seen as "barbaric" by rights watchers, or unless they amend jail rules.
Some circles that resent criticism of executions in Pakistan are likely to push for his hanging - but either move will be frowned upon by international quarters as well as rights groups at home.
---
In a statement on Sunday the independent Human Rights Commission of Pakistan (HRCP) described the court order to hang Abdul Basit as an offence "against all norms of civilised justice" which would raise awkward questions about the Pakistani justice system and "indict the Pakistani state and society as brutal entities".
The HRCP also urged the president to stay the execution and grant him a reprieve.
Pakistan has the world's largest number of death row inmates, with more than 8,000 people reported to be awaiting execution.
It is on course to have one of the highest rates of executions in the world.
---
Executions around the world
Pakistan has executed at least 239 people since December 2014
In July Amnesty said it believed Iran had put 694 people to death between 1 January and 15 July
In August, Amnesty International said Saudi Arabia had executed 102 people in the first six months of 2015, compared with 90 in the whole of 2014
Figures for executions in some other countries in 2015 are not yet available
By the end of last year, the other countries with the highest number of reported executions were Iraq: 61, USA: 35, and Sudan: 23
China and North Korea refuse to divulge information on the number of executions that take place within their borders
Read more:
What is behind Pakistan's dramatic rise in executions?
The Pakistani hangman and his family tradition
---