Bangladesh arrests over Italian aid worker death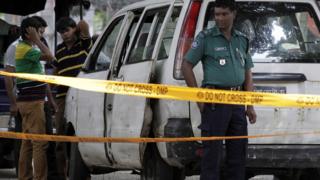 Four people have been arrested in Bangladesh in connection with the killing of an Italian aid worker, say police.
Cesare Tavella, 50, was shot dead in the diplomatic quarter of the capital, Dhaka, in late September.
The attack was claimed the militant group Islamic State, which also said it was behind the murder a Japanese national a few days later.
The Bangladeshi authorities have not verified the claims.
It was the first time IS had claimed an attack in Bangladesh, where it has not yet announced a branch.
Dhaka police spokesman Muntashirul Islam told AFP news agency that three of the men arrested on Sunday were directly accused of killing Mr Tavella.
Attacks on foreigners in Bangladesh are rare, correspondents say, but Islamist violence has surged recently, including high-profile attacks on atheist bloggers.