Seven Pakistani soldiers killed by fire from Afghanistan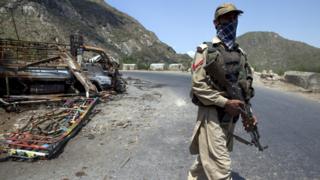 Pakistan says seven of its soldiers have been killed in the South Waziristan tribal region by fire from across the border with Afghanistan.
It is not clear who was behind the firing, but Pakistan has blamed Islamist militants for such incidents in the past.
The two countries often accuse each other of failing to counter militants.
The Pakistani military has mounted an offensive against militants in the South Waziristan and Khyber regions.
South Waziristan is one of Pakistan's seven tribal regions near the Afghan border where home-grown insurgents as well as Taliban and al-Qaeda militants operate.
A statement from the army said the soldiers belonged to the Frontier Crops and that the attack targeted a checkpoint north-east of the border village of Angoor Adda.