AlDub star Maine Mendoza's social media accounts hacked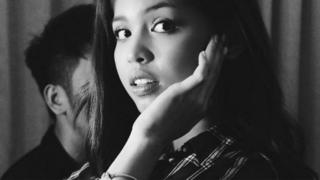 Online hackers have targeted the social media accounts of popular Filipina actress Maine Mendoza.
Ms Mendoza, famously known for her role as Yaya Dub on the Eat Bulaga! afternoon variety show, has a hugely successful internet fan base.
Local media reported that her sites were hacked by the Philippines arm of the Anonymous hacktivist group.
The group claimed responsibility and apologised to the actress in a Facebook post on Tuesday.
"Dear AlDub fans, we sincerely apologise for the recent intrusion of your beloved Idol's Twitter account... We just wanted to send a message to the public and using Maine's account is one of the easiest ways we could find," it said.
"We know we will get a lot of negative comments. But sometimes, you must give a sacrifice for the cause."
The actress has not responded to the group's statement but sent out a tweet saying that she has since partially regained access.
"Instagram's fine, Twitter's back, Facebook deactivated (by hackers), email still inaccessible," she said.
---
More about AlDub:
'AlDub': A social media phenomenon
Why are 'AlDub' so popular in the Philippines?
The 'AlDub' handwave that's sweeping the world
---
Ms Mendoza, who is one half of Filipino entertainment sensation AlDub, is the third fastest-growing celebrity on Twitter.
Together with actor Alden Richards, the duo have taken the social media world in the Philippines by storm.
Fan-created hashtags generate huge interest on Twitter and some have even been known trend into the millions.
This week, news of the hacking infuriated AlDub fans, who took to Twitter to voice their unhappiness.
"Hackers, are you trying to look for dirt to throw? Your ride to hell is here," commented Harmond Marte in the Philippines.
"You aren't hacktivists. You're just bullies," said another angry fan."Shameful that you even think you have a cause."
Other fans called for administrators of the social media sites to restore Ms Medoza's accounts quickly.