Pakistan Shaheen Air plane careers off runway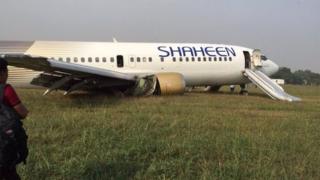 A plane has veered off the runway after landing in the Pakistani city of Lahore, injuring at least 10 people.
The Shaheen Air flight made an emergency landing in Allama Iqbal International Airport on Tuesday, with over 100 people reportedly on board.
Initial reports said one of the plane's tyres had burst. Other reports said the plane suffered an undercarriage malfunction.
All passengers on the Karachi-Lahore flight have now been moved to safety.
Pervez George, a spokesman for the Civil Aviation Authority, said: "Shaheen Air International's Boeing 737-400 plane landed at 09:27 (04:27 GMT) at Lahore airport. Right after landing the plane veered off to the left side and went to the grass land on the side."
He added that airport operations were now "back to normal" following some minor delays.
Zain Asghar, an aviation student who was at the scene following the landing, told the BBC: "The tyre was burst off [the plane] and the aircraft [had] skid off the runway."