Nepal footballers in treason hearing over match-fixing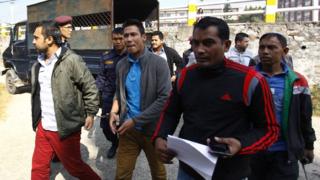 Five Nepali footballers have appeared in court charged with treason over alleged match-fixing in World Cup qualifiers in 2011.
The footballers - including former captain Sagar Thapa and goalkeeper Ritesh Thapa - were arrested last month after police said they found large sums of money from suspected match-fixers in their bank accounts.
A lawyer for one of the players says they deny all charges.
Prosecutors are seeking life sentences.
"We hope the truth will come out," Thapa told reporters outside the Special Court in Kathmandu.
Five of the players are in police custody while another - a physiotherapist for the team - is regarded as a fugitive.
The hearing will continue on Tuesday, when the judge will decide whether to keep the accused in custody or release them on bail.
The players were charged under a 1989 act against "unlawfully jeopardising Nepal's sovereignty, integrity or national unity", said Bhadrakali Pokharel, registrar at the Special Court in Kathmandu.
Speaking to AFP, he added: "The government has charged the five footballers arrested last month with treason and has sought a life sentence as punishment."
The footballers were alleged to have deliberately lost several games in 2011 as part of Nepal's unsuccessful bid for the 2014 World Cup in Brazil.
Football's world governing body Fifa has been embroiled in a series of alleged corruption scandals in recent months.