Myanmar landslide: 'Many missing' at Kachin jade mine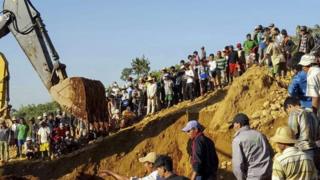 Many people are still missing after a massive landslide at a jade mine in Myanmar's northern Kachin state.
At least 104 bodies have now been recovered, with some estimates saying more than 100 people are still missing.
The incident happened in Hpakant on Saturday when a huge amount of mining debris collapsed, engulfing the homes of some miners.
It is unclear what triggered the landslide in the region, which produces some of world's best jade.
Many of those killed were people who made their living scavenging on or near the waste dumps, searching through the debris in the hope of finding fragments of jade to sell.
---
Jonah Fisher, BBC News, Yangon
The Burmese jade industry is dominated by companies connected to the army.
Their job is to gouge out as much of the ground as quickly as they can, and process it before dumping the rocks they don't need.
With China an eager market, the companies make hundreds of millions of dollars every year - but there's still money to be made in the leftovers.
A good small-sized rock can be worth several thousand dollars, so small-scale independent miners earn their living by picking their way through the piles of waste.
But as we've seen, the dump sites can be unstable, and landslides not uncommon.
We tried to visit Hpakant earlier this year to see at first hand how the jade industry works.
It's one of the areas in Myanmar designated "no foreigners" (a somewhat flexible rule that doesn't seem to apply to Chinese traders).
We applied for permission and got it from the Union government in Naypyitaw. Unfortunately the chief minister of Kachin State didn't concur so we were stopped from going, after several days of discussions.
Burmese journalists on the other hand appear able to be able to work quite freely.
---
Rescuers, including the military, have been using backhoes to clear the soil and look for survivors.
Communications with this part of Kachin State are poor and details are hard to confirm. Foreigners are not allowed in the area.
Authorities said this site and others had previously been designated at risk of landslides and notices had been issued to small-scale miners to not reside there, said state-owned The Global New Light of Myanmar.
"We have issued orders and warned the people not to build makeshift huts near mountains of dump soil and not to stay there," an unnamed official from the Hpakant Township General Administration Department was cited as saying.
In a report in October, advocacy group Global Witness said the value of jade produced in 2014 alone was $31bn (£20.4bn) - the equivalent of nearly half the country's GDP - yet hardly any of the money is reaching ordinary people or state coffers.
Local people in mining areas accuse the mining industry of a series of abuses, including poor on-site health and safety and frequent land confiscations.
Many jade mining areas have been turned into a moon-like areas of environmental destruction as huge diggers churn the earth in search of the translucent green stones.