Nepal blockade: Large Kathmandu protest by schoolchildren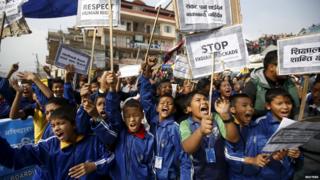 Tens of thousands of schoolchildren in Nepal have formed a human chain along the full length of the ring road around the capital, Kathmandu.
They are protesting against a blockade by the Madhesi ethnic minority, who say they are discriminated against in the new constitution.
The Madhesi have been blockading the Indian border for two months, causing shortages of food and medicine.
Nepal says India is making it worse by tacitly supporting the Madhesi.
India denies blockading Nepal, but it has urged the government to hold serious talks with the Madhesi.
Around 60% of Nepal's medicine is imported from India, along with large amounts of fuel, food and other supplies.
Schools in Nepal have reportedly been forced to cut down on hours because of the fuel shortage caused by the blockade.
During Friday's protest in Kathmandu, children reportedly shouted: "Stop the blockade. Education is our right. We will not bow down to India".
They demanded an immediate lifting of the blockade, which has hampered efforts to recover from April's devastating earthquake.
Dozens of people have been killed in the protests in Nepal since August.
Why is Nepal's new constitution controversial?