Thailand printers refuse to print New York Times cover story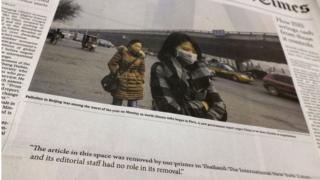 The New York Times' printer in Thailand has refused to print one of its articles, leaving a blank space on its cover page.
The article, titled "Thai spirits sagging with the economy", discussed the country's flagging economy and touched on royal succession concerns.
The printer withheld an entire edition of the paper, which featured an article on the ailing king, in September.
Thailand has strict laws that protect the royal family from insult or threat.
The lese majeste laws can result in jail terms for anyone who insults the monarchy.
Critics say the laws are used liberally by the military government to silence discussion about the royal family and the succession to the throne.
Thailand's lese majeste laws explained
On Tuesday parts of the front page and page six of the New York Times in Thailand were left blank and carried the sentence: "The article in this space was removed by our printer in Thailand. The International New York Times and its editorial staff had no role in its removal."
The full article is still available online.
An official at the printing company said the article was "inappropriate", but did not elaborate, the Associated Press news agency said.
The Thai military took power during a May 2014 coup and have since increased prosecutions under the country's lese majeste laws.
There was no indication that the government was involved in the printer's decision.
King Bhumibol Adulyadej, 87, has had frequent bouts of ill health in recent years. His health is closely watched in Thailand as he is seen as a unifying symbol and pillar of stability in a society that has seen increased political divisions and violence.