Afghan Taliban conflict: 'More troops arrive' in Sangin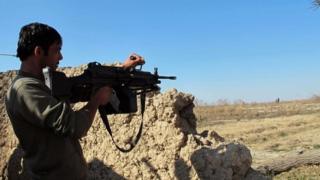 Military reinforcements have arrived in the Afghan district of Sangin to support police and soldiers besieged by Taliban militants, the Helmand deputy governor has told the BBC.
Mohammad Jan Rasoulyar also said that military planes had dropped food supplies to government positions in Sangin.
He said the army was "now taking the fight to the Taliban".
Civilians have been fleeing the town amid continuing bitter fighting.
A spokesman for the Taliban said it has taken full control of Sangin district, but Afghan acting defence minister Masoon Stanekzai said fighting in Sangin was "ongoing".
BBC defence correspondent Jonathan Marcus says that the struggle for Sangin is part of a wider battle for control in Helmand province.
---
Read more:
---
Our correspondent says that if it were to fall into Taliban hands, it would be a serious reverse for the government in a province that has been a major centre of the Taliban insurgency with important supply routes for the opium trade.
Its proximity to Pakistan also serves to give the area a broader strategic significance.
Prior to the withdrawal of the bulk of Nato troops from Afghanistan last year, Sangin was a major centre of the military alliance's involvement in Afghanistan.
Sangin district has fallen to Taliban control several times and the fighting has caused significant casualties among Afghan and international forces.
Taliban spokesman Qari Yousuf Ahmadi said in quotes carried by Reuters: "The Kabul administration cannot protect themselves without foreigners and the nation does not accept that."
Some 12,000 foreign soldiers are deployed in the country as part of the Nato-led Resolute Support international coalition, which is meant to underpin Afghan security forces.
Britain has announced that a small number of UK personnel have been deployed to Camp Shorabak in Helmand province in an advisory role. The BBC understands there are 10 such personnel.
Resolute Support replaced the 13-year Operation Enduring Freedom, which saw more than 900 international coalition deaths in Helmand province. More than 100 of them were British soldiers.
The head of Helmand's provincial council, Muhammad Kareem Atal, said 2,000 Afghan security forces personnel had been killed in the province this year.
In September, the Taliban briefly overran the northern city of Kunduz in one of their biggest victories in 14 years of war.