Japan pop group SMAP denies it is breaking up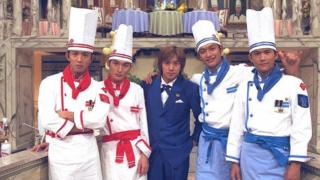 One of Japan's biggest pop groups, SMAP, has said it will not be breaking up after the country was gripped by rumours of a split.
During a live broadcast of their weekly variety show on Monday members said they would be sticking together and apologised for causing concern.
The "boy band" is a mainstay of Japan's pop scene and is popular across Asia.
Rumours that they were breaking up over a dispute with management caused widespread concern in Japan last week.
In a sombre announcement the group confirmed they had been "on the verge" of a break-up, but did not give further details. Dressed in dark suits, they bowed to the camera and asked for fans' continuing support.
"We will keep moving forward, no matter what," said Takuya Kimura, the band's best known member.
The announcement relieved many fans, but others online have criticised the statement, alleging that the management had forced the band to apologise in public. The band reportedly was negotiating its future with its management agency.
The band, formed in 1988, has built up a huge fanbase in Japan and throughout Asia with members appearing frequently in movies, soap operas, and commercials.