Nepal border blockade: Ethnic groups lift roadblocks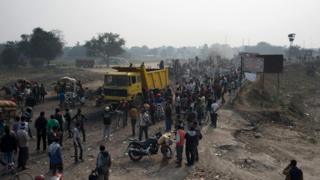 Nepal's ethnic minority groups have lifted a four-month blockade of crossings along the Indian border.
The announcement comes days after frustrated residents and traders dismantled roadblocks set up by ethnic Madhesi groups.
Minority activists have been demanding changes to a new constitution which they say does not represent them.
The blockade has led to severe shortages of fuel and other supplies across the country.
The Madhesi groups - representing people living in Nepal's southern plains bordering India - have been holding protests demanding their better representation under the new constitution.
Clashes linked to the protests have resulted in the deaths of over 50 people.
The groups have announced the lifting of the border blockade and a general strike, but said they will continue with their campaign.
Nepal's Prime Minister, Khadga Prasad Oli, reportedly welcomed the decision, describing it as a "positive move".
"I am confident that the differences and disputes can be addressed through talks among us," a statement quoted the PM as saying, according to the My Republica website.
---
Read more on Nepal's crisis:
Why is Nepal's new constitution controversial?
Why India is concerned about Nepal's constitution
Fuel crisis threatens Nepal's forests
Nepal blockade: Four die in clashes
---
On Friday, a vital border crossing between Nepal and India was opened to traffic for the first time in more than four months, allowing hundreds of trucks to enter Nepal carrying fuel and other supplies.
Last month, Nepal's parliament approved the first amendment of the constitution in order to address some of the activists' demands, such as proportional and inclusive representation of marginalised communities.
However, the Madhesi groups called it inadequate.
The Nepalese government has also accused India of deliberately worsening the embargo - something India denies.