Taiwan quake death toll reaches 94 as relatives hold memorial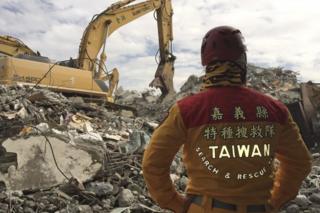 The official death toll from the powerful earthquake which hit Tainan city in Taiwan last Saturday has risen to 94.
Efforts continue to find at least 30 people who are still missing, but hopes are fading of anyone being found alive.
On Friday, the president and president- elect attended a memorial service held by relatives of the dead and missing.
All but two of the people killed had been inside one building in Tainan, which completely collapsed.
Lin Ming-hui, the developer of the Weiguan Jinlong (Golden Dragon) complex, and two architects have been detained on suspicion of negligence, amid accusations the building was poorly constructed.