India PM Modi in 'happy birthday' gaffe to Afghan president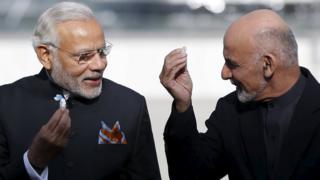 Indian Prime Minister Narendra Modi has wished Afghan President Ashraf Ghani a happy birthday - only for Mr Ghani to explain he had got the wrong day.
Mr Modi had tweeted his best wishes to Mr Ghani, writing: "Praying for your long life & exceptional health and a joyful journey ahead".
Leading Mr Ghani to gently point out his birthday is, in fact, on 19 May.
Mr Ghani's profile on Google lists his birthday as being on 12 February, which may explain the mistake.
It is not known if Mr Modi himself wrote the erroneous tweet. His posts are reportedly written by his social media manager, Hiren Joshi.
And it is unlikely Mr Ghani, who is at Munich Security Conference, wrote the polite reply, as any posts written by the president himself are signed AG.
Given there are at least 22.2m Twitter users in India and that Mr Ghani has more than 176,000 followers, the mistake was spotted by plenty of people.
One Twitter user in India, replied to Mr Ghani: "We don't care when you b'day is , if our honourable PM has wished you today, we will celebrate it today."
Another, Richard Rego, said it was "the biggest international joke from someone occupying the biggest chair in the biggest democracy".