Bollywood stars flee 'Make in India' fire in Mumbai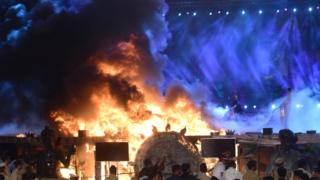 Bollywood actors Amitabh Bachchan and Aamir Khan were among those who had to be evacuated when a big fire broke out at a lavish cultural show in Mumbai.
The show was part of an economic event, "Make in India", designed to encourage foreign investment.
Video from the scene, in an enclosure on Chowpatty Beach, showed the fire blazing under a stage as dancers up above continued their act.
VIPs including the state chief minister had to wave at them to stop.
Reports say the blaze, caused by a short circuit, was brought under control and no-one was hurt.