Pakistan: Bus bomb explosion kills 15 in Peshawar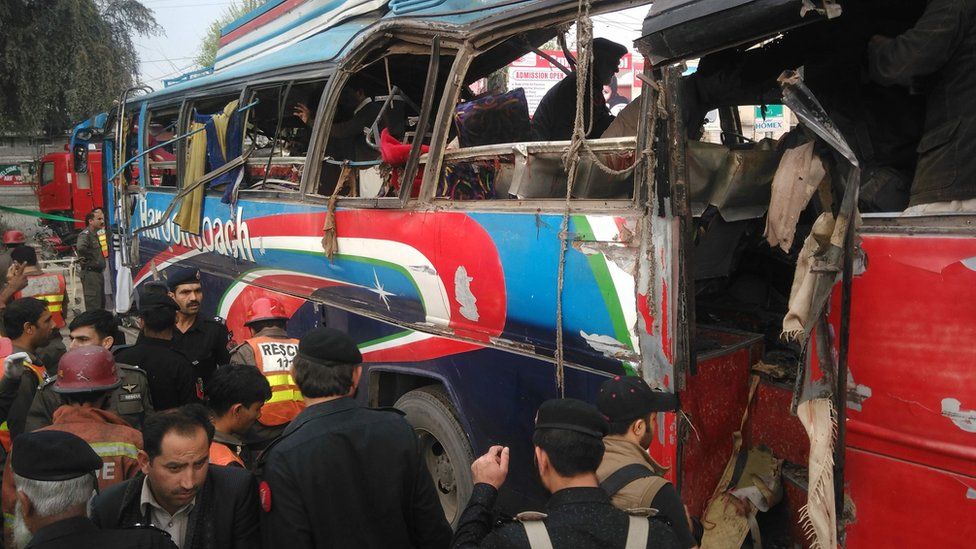 At least 15 people travelling on a bus have been killed by a bomb in the north-western Pakistani city of Peshawar, officials say.
The vehicle was carrying government employees from nearby areas to the city.
An improvised device apparently inside the bus caused the blast, police say.
There has been no claim of responsibility, but Peshawar has frequently been targeted by the Pakistani Taliban.
Around 30 others were injured, and many were in critical condition, a medical source told Reuters news agency.
Television pictures showed the vehicle partially destroyed and some of the wounded being taken to a hospital.
The bomb went off as the bus passed a main road busy with morning traffic.
In a statement published on the website of state-run Radio Pakistan, Prime Minister Nawaz Sharif said "such cowardly acts could not deter our resolve to weed out terrorism from the country".
The blast happened in a turbulent area where Pakistani forces have intensified their campaign against the Taliban and other militant groups along the border with Afghanistan.
That campaign followed the attack at an army-run school in Peshawar in December 2014 that killed more than 150 people, most of them children.