Pakistan guard shoots 'monster mask' boy aged 11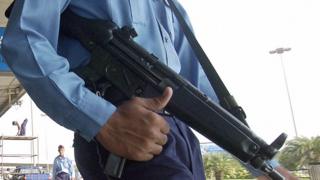 A security guard in the Pakistani city of Karachi has shot dead an 11-year-old boy wearing a monster mask, police say.
The boy had sneaked up on the guard in an attempt to scare him, and the guard responded by opening fire, police said.
The boy was taken to hospital, but died of his injuries. The guard has been arrested.
Correspondents say Karachi has thousands of private security guards, but many are poorly paid and have not received proper training.
The boy's family and local residents have staged a protest over the shooting, which occurred late on Sunday.