Afghan attacker admits killing Americans in Kabul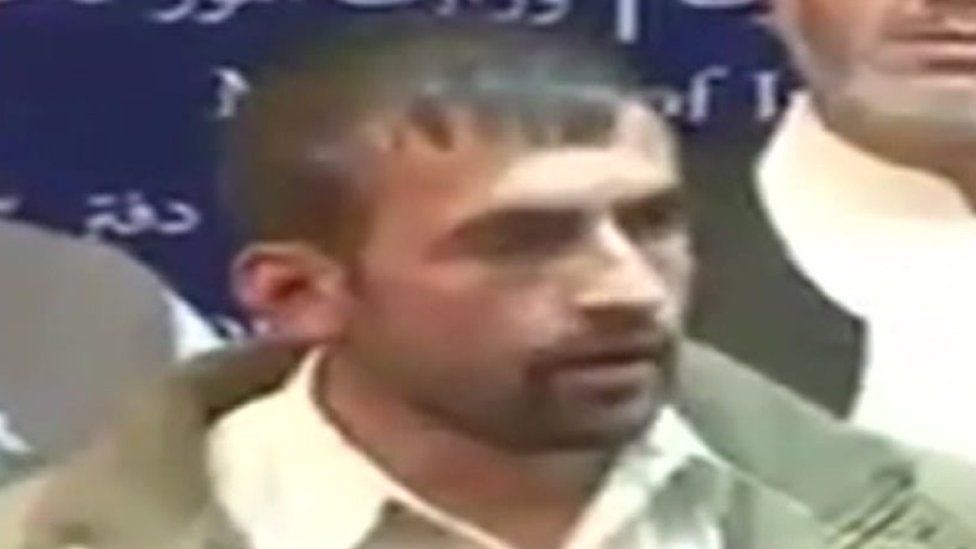 A former Afghan police officer has admitted killing two American advisers inside the interior ministry in the capital, Kabul, in 2011.
Abdul Saboor was arrested this week in his hometown of Salang north of Kabul.
Presented to the media, he said he had no regrets and was "proud" of his actions. "I don't care if I die for it," he said.
He said that he had shot the advisers from close range using an official pistol.
The incident was among several at the time in which security force members turned their arms on coalition forces.
Abdul Saboor said he was angry at the time over reports that copies of the Koran had been desecrated by US troops.
"When I heard that they had set fire to the Koran, I couldn't control myself," he said.
"Since coalition forces have come to my country, what good have they done - could you show me?"
In 2012, Abdul Saboor was an employee at the control centre for CCTV inside the interior ministry.
After shooting the advisers he managed to escape. But interior ministry spokesman Seddiq Seddiqi said the fugitive was arrested on Tuesday.
A BBC investigation in 2012 revealed that a catalogue of security blunders had led to the shootings and his escape, resulting in a significant lowering of trust between coalition forces and Afghan security and military officials.
Interior ministry documents showed that Abdul Saboor was sacked twice by the police - on one occasion getting into a scuffle with his colleagues and another time displaying violent behaviour.
But he was still able to get security clearance when he was re-hired by police for a third time to work as an interior ministry driver.