North Korea detains Russian yacht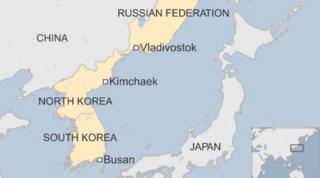 A Russian yacht has been detained by North Korean coastguards in the Sea of Japan, Russia's foreign ministry says.
Reports say the sailboat with five crew on board was intercepted as it was returning to Russia after participating in a competition in South Korea.
Russian diplomats have demanded the crew's immediate release and an explanation.
Russia is one of the few countries that has relatively friendly ties with North Korea.
---
Read more on North Korea:
---
The yacht Elfin was on its way from South Korea's port city of Busan to Vladivostok in Russia's far east when it was detained 130km (80 miles) off the coast on Friday, the foreign ministry said.
The vessel was taken into the North Korean port of Kimchaek and the crew were not in any danger, the ministry added.
The Russian consul-general was waiting for permission to visit them, it said.
Russia shares a short land border with North Korea.