Pakistan could beat polio in months, says WHO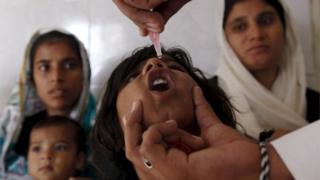 Polio could be eradicated in Pakistan within months, health officials say, as a mass vaccination drive is launched.
A World Health Organisation spokesman told the BBC only a handful of cases have been reported this year in Pakistan and neighbouring Afghanistan.
The two countries are the last places where polio remains endemic.
It is hoped millions of children will be vaccinated over three days. Police escorts will guard against Islamist militants who oppose immunisations.
"The challenges we have are both logistics and security," the WHO's representative for Pakistan, Dr Michel Thieren, told the BBC.
He said about 70,000 medical staff aimed to immunise almost 10 million children in the drive, which is taking place in Khyber Pakhtunkhwa and semi-autonomous tribal areas in the north-west, as well as in south-west Balochistan province.
"They have with them 12 million doses for the coming three days," he said.
"We are very close. A handful of cases [were] noticed this year - about 11 in Pakistan and I think about five in Afghanistan.
"This is the lowest toll of cases in history. We expect to be within months of polio elimination in Pakistan."
The BBC's M Ilyas Khan in Islamabad says the WHO's expression of optimism comes after the Pakistani authorities launched repeated anti-polio drives in high-risk areas.
Health teams gained access to formerly hostile regions in the north-west after the Pakistani military launched a 2014 offensive against the Taliban in North Waziristan.
Attacks on health workers have dropped since then, although they still remain a threat.
Islamist militants oppose vaccination, saying it is a Western conspiracy to sterilise Pakistani children.
In April seven policemen, three guarding polio workers, were killed in Karachi. A January bomb attack on a vaccination centre in Quetta killed 15 people.
Pakistan recorded more than 300 polio cases in 2014, its highest number since 1999. The number of cases fell to 52 last year.
Polio around the world
What is polio?
Polio (poliomyelitis) is a highly infectious disease caused by a virus which invades the nervous system. It mainly affects children aged under five.
Symptoms include fever, fatigue, headache, vomiting, stiffness in the neck and limb pain.
One in 200 infections leads to irreversible paralysis, and between 5-10% of those who suffer paralysis die because their breathing muscles are immobilised.
Cases have fallen dramatically since polio eradication programmes were introduced; from 350,000 globally in 1988 to around 70 in 2015.
Polio remains endemic in Afghanistan and Pakistan, but Nigeria was removed from the list in October after a year with no new cases.