Pakistan blasphemy claim: Christian sought over WhatsApp poem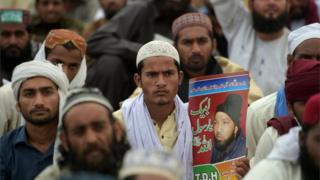 Pakistani police are looking for a Christian man after he was accused by a Muslim friend of insulting Islam on social media.
Police sources said the man from the town of Sarai Alamgir in Punjab province had since disappeared.
He is alleged to have sent his friend a blasphemous poem on the WhatsApp messaging site.
Pakistan has strict blasphemy laws and anyone accused of insulting Islam can be sentenced to death.
What are Pakistan's blasphemy laws?
Who are Pakistan's Christians?
Local police official Mohammad Asim told the AP news agency that officers were guarding a local church to prevent any violence.
There are also reports that the accused man's family have been taken into protective custody.
Accusations of blasphemy have led to mob violence in the past in Pakistan.
In 2014, a Christian couple was murdered for allegedly desecrating the Koran.
Critics argue that the country's blasphemy laws are often misused to settle personal scores and unfairly target minorities.