Swiss police seize Monet and Van Gogh art linked to 1MDB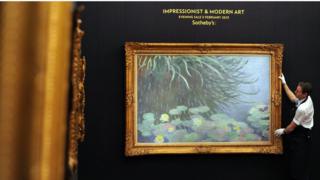 Swiss police have seized three paintings as part of a huge Malaysian corruption investigation.
On Wednesday, US authorities filed a lawsuit to seize $1bn (£761m) in assets bought with money believed to have been taken from Malaysian state fund 1MDB.
Some of the money was spent by people linked to the fund on luxury homes, hotels and fine art, the US said.
The fund was originally set up and overseen by Malaysia's Prime Minister Najib Razak. He denies all wrongdoing.
A spokeswoman for the Swiss federal department of justice said the seizure was on the request of US authorities.
The artworks have been identified as Vincent Van Gogh's sketch La Maison de Vincent a Arles and Claude Monet's Nympheas avec Reflets de Haute Herbe and Sainte-Georges Majeur.
The Swiss authorities declined to say where the works were seized as their operation is "ongoing".