Shameful rise in Afghan child deaths and injuries, UN says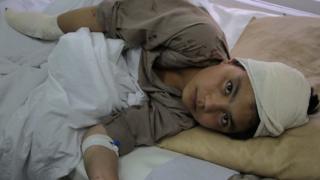 More Afghan children were killed or injured in the first half of this year than in any six-month period since 2009, says the UN.
The report's authors said the toll was "alarming and shameful", and that history would judge leaders on all sides on their response.
A total of 1,601 civilians deaths were recorded among all ages between January and June, of which 388 were children.
In the latest attack, 80 people died in a huge bomb blast in Kabul on Saturday.
Militants from the so-called Islamic State group said they had carried out the attack, which targeted a march by members of the Hazara minority, a Shia Muslim people reviled by IS.
What are the figures?
The UN High Commissioner for Human Rights, Zeid Raad Al Hussein, said the team had heard more than 5,000 stories from families affected by violence in the past six months, "of which one-third involved the killing or maiming of children, which is particularly alarming and shameful".
63,934 civilians killed or injured by violence since the UN began keeping a count in January 2009, including 22,941 death
1,601 civilians killed between January and June this year, of which 388 were children and 130 women
3,565 civilians injured in the same period, including 1,121 children and 377 women
157,987 Afghans newly displaced so far in 2016, up 10% on this time last year - an estimated 1.2m Afghans are now internally displaced
As ever, the UN warns the figures are "almost certainly underestimates" because of the strict methodology the count uses.
Also in the report are allegations of serious human rights violations including the use of children in conflict, sexual violence against children, the deliberate targeting of lawyers, activists and prominent women, summary executions and attacks on health and education facilities.
Who is killing Afghans?
"Anti-government elements" are responsible for 60% of casualties, which means primarily rival militant groups the Taliban and IS.
But so far this year, 1,180 casualties are "attributable to pro-government forces", a 47% increase on the same period last year.
Victims are caught up in ground battles, suicide attacks or hit by Improved Explosive Devices (IEDs).
Children are also disproportionately affected by remnants of war, often by playing with unexploded ordnance. The report cites a case in April where children had been throwing a mortar around after failing to trade it for ice cream.
Journalists are also being targeted, as was the case with the January attack on reporters for Tolo TV.
Ms Zeid said there must be "an end to the prevailing impunity enjoyed by those responsible for civilians casualties, no matter who they are".
Threatened with death for working on TV
Why are the Taliban resurgent in Afghanistan?
'History will judge'
Since the withdrawal of international troops from Afghanistan began after 2011 and the official end of Nato's combat mission in December 2014 , the number of civilian casualties has risen year-on-year.
Tadamichi Yamamoto, the Special Representative for Afghanistan, said every casualty listed represents "a failure of commitment" and should prompt "concrete steps" to reduce suffering.
"Platitudes not matched by meaningful action ring hollow over time," he said. "History and the collective memory of the Afghan people will judge leaders of all parties to this conflict by their actual conduct".
The protracted conflict has meant the civil, political, economic, social and cultural rights of Afghans have "been severely constrained for millions of Afghans for far too long", said Mr Yamamoto.