Tokyo elects Yuriko Koike as first female governor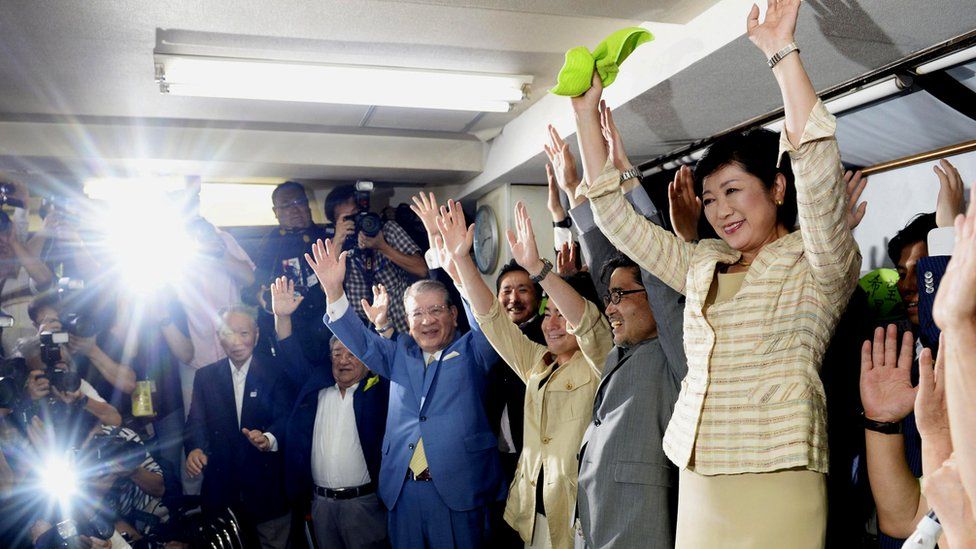 Former Defence Minister Yuriko Koike has been elected governor of Tokyo, the first woman to lead Japan's capital.
Ms Koike, running as an independent candidate, received more than 2.9 million votes in Sunday's election, beating her opponents by a wide margin.
One of her key challenges will be curbing the financial problems plaguing Tokyo's preparations to host the 2020 Olympic Games.
Both her predecessors resigned over funding scandals
"I will lead Tokyo politics in an unprecedented manner, a Tokyo you have never seen," Ms Koike, 64, told cheering supporters.
"While feeling the weight of this result, I want to thoroughly push the metropolitan government forward as the new governor."
Ms Koike is a member of Prime Minister Shinzo Abe's Liberal Democratic Party (LDP), but it did not endorse her so she ran as an independent.
Mariko Oi, BBC News: 'Insult-slinging and allegations of sexism'
"Traitor." "Too much make-up." "Dressed as a woman but a hawkish man."
These are some of the comments that have been flung in what has become one of the most negative campaigns of recent years in Japan.
Ms Koike's lead in the polls has annoyed Liberal Democrat Party grandees, with former Tokyo governor Shintaro Ishihara, the father of the local LDP federation chairman, telling voters: "We cannot leave Tokyo to a woman with too much make-up."
Her supporters were disgusted by what they called a sexist remark, but after decades in Japan's male-dominated political theatre, Ms Koike laughed it off: "I am used to it."
In all, 21 contenders were vying to lead the sprawling capital and a number of other cities in the prefecture.
Ms Koike, politician Hiroya Masuda and journalist Shuntaro Torigoe were the front-runners. Mr Masuda obtained nearly 1.8 million votes while Mr Torigoe received 1.3 million, according to the Tokyo Metropolitan Government Election Administration Commission.
Sunday's election was called after previous governor Yoichi Masuzoe resigned last month following fierce criticism over allegations that he used official funds to pay for holidays, art and comic books for his children.
Mr Masuzoe, who won election promising a scandal-free administration, denied breaking the law, but admitted to ethical lapses around his spending.
His predecessor, Naoki Inose, also quit over a funding scandal in 2013 soon after Tokyo won the right to host the Olympics.
Since then Tokyo's preparations for the 2020 Summer Olympics have been hit by scandals, overspending, administrative fumbles and construction delays.
Left university in Japan to study in Egypt in the 1970s, where she later earned a degree in sociology from Cairo University. Ms Koike speaks fluent Arabic.
A former television news anchor, she first entered politics in 1992.
Served as environment minister in 2003, and defence minister under Prime Minister Shinzo Abe's government in 2007.
Had an unsuccessful run for the national Liberal Democratic Party leadership.
Was seen as the most right-leaning of the three leading candidates for the Tokyo governorship.
Has vowed to pursue policies that will promote better conditions for women.