Taiwan president gives first apology to indigenous groups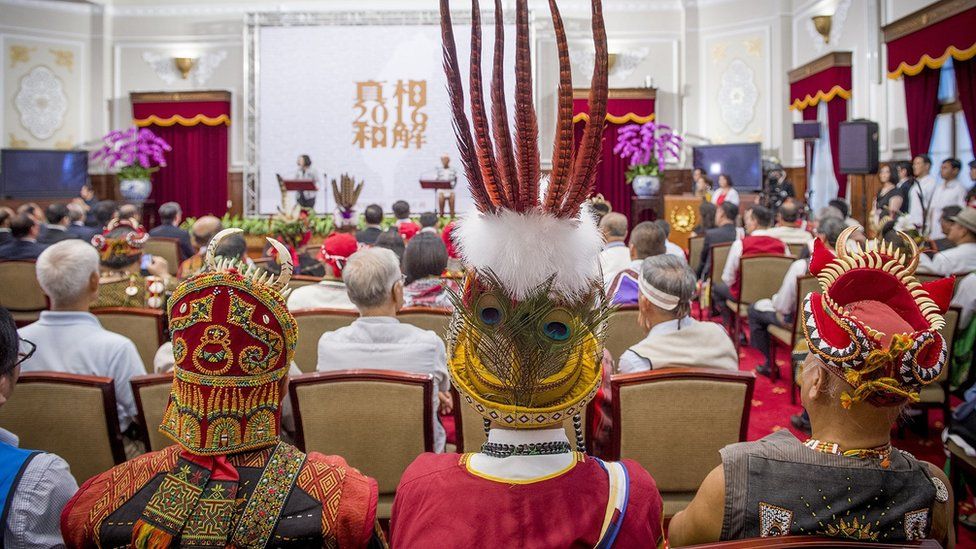 Taiwanese President Tsai Ing-wen has officially apologised to the island's indigenous population for centuries of mistreatment, the first time a leader has done so.
Speaking to representatives from 16 recognised native tribes, she said Taiwan had to face "the truth" to move forward "as a country of one people".
Ms Tsai said a historical justice commission would be established.
Immigrants from mainland China arrived in Taiwan about 400 years ago.
Indigenous people lost ancestral land rights and had their traditional lifestyles, languages and cultures restricted under harsh policies of assimilation.
They remain disadvantaged compared to other Taiwanese, with higher levels of unemployment and lower average wages.
They now make up about two percent of Taiwan's more than 23 million people.
"For the past 400 years, each regime that came to Taiwan has brutally violated indigenous people's existing rights through military might and land looting," Ms Tsai said, adding that a "simple verbal apology" was not enough.
She promised the government would give indigenous communities greater autonomy, improve their land rights and work to preserve native languages, AFP news agency reported.
Capen Nganen, an 80-year-old representative of the Yami people, said he hoped the government "will truly deliver on the promises made in this apology".
Other indigenous activists said they had expected more in terms of policy.
Protests outside Ms Tsai's office over the weekend called for indigenous hunting rights to be protected.
The establishment of national parks on their land has led to anger over the need to obtain permits for hunting, fishing and foraging.
Ms Tsai, whose Democratic Progressive Party came to power in January, is the first Taiwanese leader with aboriginal heritage.
Her paternal grandmother was from the Paiwan indigenous tribe and she had promised an apology during the election campaign.