In pictures: Japan reacts to Emperor Akihito's speech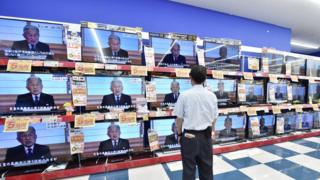 Japan came to a brief standstill on Monday as crowds gathered to watch the country's Emperor Akihito's second-ever televised message to the public.
Age and deteriorating health meant that he was finding it difficult to continue his role, the 82-year-old emperor said.
He stopped short of using the word "abdicate", but indicated a strong wish to hand over his duties.
Opinion polls showed that the vast majority of Japan sympathised with the emperor's desire to retire.