North Korean restaurant defectors released in South Korea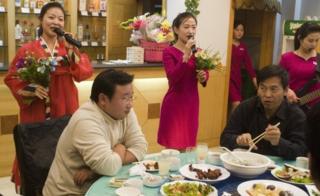 Authorities in Seoul have released a group of 13 North Korean restaurant workers who defected from China to South Korea earlier this year.
Officials said 12 women and one man had now begun the formal process of resettlement in South Korea.
The group defected in April from a North Korean state-run restaurant in the Chinese city of Ningbo.
At the time Seoul said the size of the defection was "unprecedented" and held them for further investigation.
Most North Korean defectors are first held at an interrogation facility to screen for potential spies and then put through a state resettlement programme for three months, the AFP news agency reports.
But in this case the National Intelligence Service (NIS) said it held the workers in "protective custody" because the case was very high profile. It added that the North was using the case for propaganda by claiming the female workers had been abducted by Seoul's spy agency.
The 13 defectors left a halfway house last Thursday, local media reports said. Seoul's Unification Ministry merely confirmed they had been released but did not give more details.
---
Read more:
The mystery of North Korea's virtuoso waitresses
BBC's Stephen Evans: My friend the North Korean defector
---
The release comes just one day after a diplomat at the North Korean embassy in London was reported to have defected and fled abroad with his family.
Thae Yong Ho had served as deputy to the ambassador and was responsible for promoting the image of his country to British audiences.
The group of restaurant workers all left China by legal means on 6 April, a Chinese spokesman confirmed after the defection. Unlike many defectors, they all had valid travel documents.
The restaurant was reportedly in Ningbo, in China's north-eastern province of Zhejiang. North Korea runs some 130 restaurants in other countries which provide a much-needed source of income.
Their staff are thought to be hand picked from families loyal to the North Korean state.