Thai teenagers charged with killing transgender woman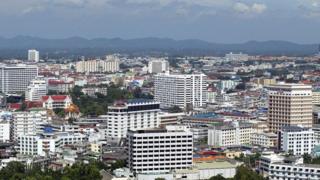 Two teenage boys have been arrested in Thailand for allegedly killing a transgender woman and hiding her body inside a bed frame in a hotel room in the seaside town of Pattaya.
The body was found after a hotel maid noticed blood near the bed.
Two hotel guests had complained of a smell in their room the previous day but continued to stay the night.
Police said that the victim, identified as 28-year-old Amphon Kongsong, had been dead for three or four days.
"The hotel's cleaner found a very strong smell in the room and tried to find the source. Then the hotel staff searched the room and found the body under the mattress," Pattaya police chief Col Apichai Kropphet told the BBC.
"But it wasn't until after a Thai couple had checked in and slept on the bed."
The teenagers will be charged with murder and concealing the body, but will be tried in a juvenile court.
The 17-year-old boy knew Ms Amphon through Facebook and thought she could help him find a job in Pattaya, according to Col Apichai.
They stayed in a hotel room together, but began fighting after she asked the teenager to have sex with her, Col Apichai said.
The 17-year-old killed Ms Amphon with help from a friend, aged 14, police say.
The killing took place on Thursday night and hotel management notified the police on Saturday.