North Korea submarine fires ballistic missile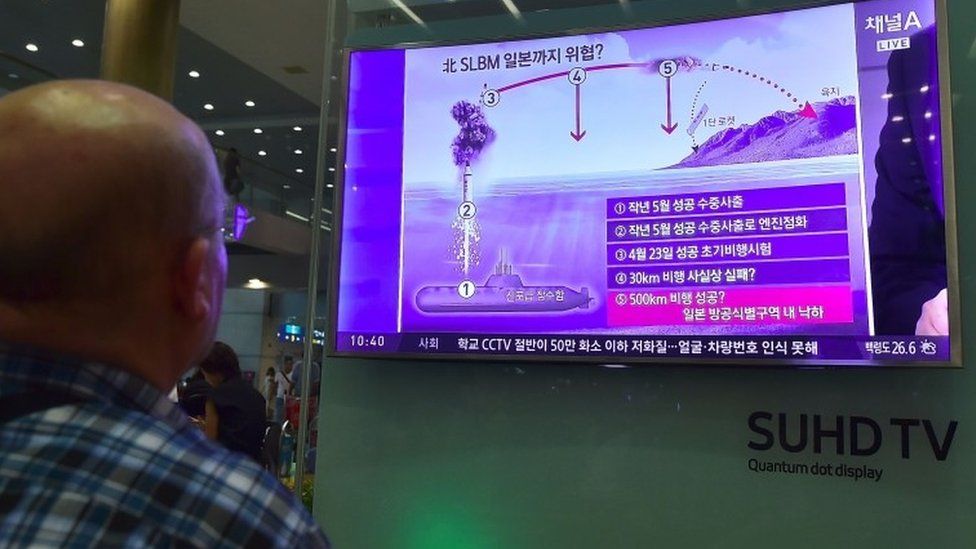 North Korea has fired a ballistic missile from a submarine off its east coast, say the US and South Korea.
The KN-11 missile was launched from waters near Sinpo and flew about 500km (300 miles) before falling into the Sea of Japan, a US official said.
Japan's PM said it fell inside Japan's Air Defence Identification Zone, calling it a "reckless act".
It comes as South Korea and the US begin annual military drills, which routinely anger Pyongyang.
Ulchi Freedom involves about 80,000 US and South Korean troops in a largely computer-simulated defence of South Korea from a fictional North Korean invasion.
North Korea, which sees these drills as a rehearsal for invasion, recently warned they were pushing the Korean peninsula towards the brink of war and threatened a "pre-emptive nuclear strike" in retaliation.
North Korea is banned by the UN from any use of ballistic or nuclear technology. But in recent months it has carried out repeated missile launches, and is believed to be close to conducting its fifth test of a nuclear device.
Wednesday's early morning launch appears to have been its most successful test yet of a submarine-launched ballistic missile (SLBM).
SLBMs are of particular concern because of the mobility of submarines and the ease with which launch preparation can remain undetected.
The South's military said it "seemed to be aimed at raising military tension in response to the Seoul-Washington military drill", the Yonhap news agency reports.
It said it would "sternly and strongly respond to any provocation by North Korea".
Japan's Prime Minister Shinzo Abe confirmed reports that the missile fell into Japan's ADIZ, an area of airspace over which a country exercises security controls.
He said it was an "unforgivable, reckless act" which "poses a grave threat to Japan's security".
The US State Department said it "strongly condemned" this, and previous missile tests, and would raise concerns at the UN.
The launch also coincided with a meeting of foreign ministers from Japan, China and South Korea in Tokyo.
The three regional powers had agreed to "urge North Korea to exercise self-restraint regarding its provocative action, and to observe the UN Security Council's resolutions," Japan's Foreign Minister Fumio Kishida said.
His Chinese counterpart, Wang Yi, said that China was opposed to "any words and deeds that will cause further tension" on the Korean peninsula.
Last month, the US and South Korea agreed to deploy a missile defence system to counter threats from the North.
North Korea has conducted four nuclear tests to date - its most recent claimed to have used a hydrogen bomb - but despite its claims, it is not yet believed to have the ability to mount a nuclear device onto a warhead.
Mr Thae, thought to be the highest-ranking North Korean official ever to defect, was branded "human scum" by Pyongyang.